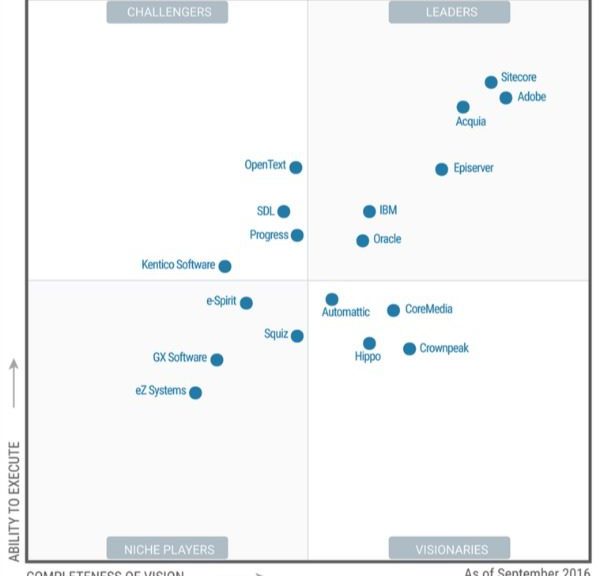 Gartner Magic Quadrant for WCMS
As an Enterprise/Solution Architect, I have been called upon upteen times help make a decision on several technology platforms. Based on the company's product/service road-map and the digital strategy (in cases defining these along the way) I have also helped them in selecting an WCMS.
Personally though, I am more inclined toward Drupal/Acquia and previously toward Zope in open-source and SiteCore and CQ5 (now rebranded as AEM) in enterprise class products. Still, I have found it very useful and at times helpful in convincing the client with the reports of 3 research corporations. Prime among them are Gartner, Forrester and IDC.
Naturally, I follow them with interest, and am sharing the latest Magic Quadrant here.
This Year, Gartner Research has downgraded OpenText, SDL and HP from the leader's quadrant in its latest industry report on web content management (WCM).
Previous contenders Sitecore, Adobe, Acquia, EPiServer, IBM and Oracle retained their spots on the leaderboard in the Stamford, Conn.-based research firm's Magic Quadrant for Web Content Management, which it released yesterday.
According to Gartner report authors Mick MacComascaigh and Jim Murphy, Boston-based Acquia made the biggest positive move, closing the gap on Copenhagen-based Sitecore and San Jose, Calif.-based Adobe.3
But Sitecore and Adobe still lead the WCM pack, based on Gartner's criteria of completeness of vision and ability to execute. It was the same story last year, with Sitecore edging Adobe for execution but Adobe winning in the vision department, Gartner concluded.
Acquia, a Drupal-based, open source content management system, jumped from a visionary to a leader in 2014 and hasn't left the leaders' spot since. It's the lone open source vendor among the leaders.
Microsoft, rated a niche player last year, failed to make the cut this year. MacComascaigh and Murphy said Microsoft has focused its attention more on the digital workplace and less on WCM.
It places them in one of four quadrants:
Leaders: Those who "drive market transformation" and are "prepared for the future with a clear vision and a thorough appreciation of the broader context of digital business."
Challengers: Those who may have a strong WCM product but have a product strategy that "does not fully reflect market trends."
Visionaries: Those that are "forward-thinking and technically focused" but need to improve and execute better.
Niche Players: Those who focus on a particular segment of the market, such as size, industry and project complexity. But that, according to Gartner authors, "can affect their ability to outperform their competitors or to be more innovative."

Hope you found this article useful.