Onam: When the Gods grew Jealous of a Righteous King "Mahabali" and Banished him to the Underworld.
Disclaimer: This is unlike any of my previous articles and is a commentary/observation of certain cultural and mythological traditions and practices and My attempt to uncover the root elements of these traditions to a possible Historical event(s)". The intention is not to hurt any sentiments. But if it does, maybe one of us needs to read more 😀
For the uninitiated, There is a South Indian festival called Onam which is celebrated with much pomp and merriment, Majorly in the Southern State of Kerala and some adjourning areas (of Tamil Nadu and Karnataka). What is most intriguing about this festival (as compared to other Indian festivals) is, that there is no clear Good and Evil in this myth. Or should I say, the Gods in this myth do not possess all the Good virtues. While the recurring theme in the Vishnu avatars is vanquishing the so-called "Evil" Asura in support of the celestial King Indira. And interestingly enough, all of the Asuras start out as mostly righteous kings who do their penance to Lord Bhrama or Shiva and get their Boons and eventually grew powerful enough to become a threat to Indra – The divine king with a thousand vaginas.
In some of those cases, there could have been enough bias for action (as per the narratives), whereas, in the case of one of the avatars the Vamana, Lord Vishnu comes and Vanquishes his own devotee in Mahabali 😕 And frankly there is not much malice, bad behaviours attributable to the Great Mahabali!
It is the singular story where it is clearly admitted that the "Gods grew Jealous of Mahabali" and requested Vishnu to control him. Hence the story goes something like this, Vamana came, and asked for 3 parcels of land from the great king, The king's advisor (Shukra) resisted, but the benevolent king agreed. Vamana became so large and measured the Heavens in one step, and the earth in another and asked the king where to keep his feet for the third feet of land, Mahabali offered his head and thus Vamana banished Mahabali into the underworld (in order to measure the third step).
But suddenly God became all remorseful for his deeds and offered Mahabali one boon and Mahabali chose to visit his people once a year, thus we have Onam which celebrates the Return of the King from the underworld to his beloved kingdom.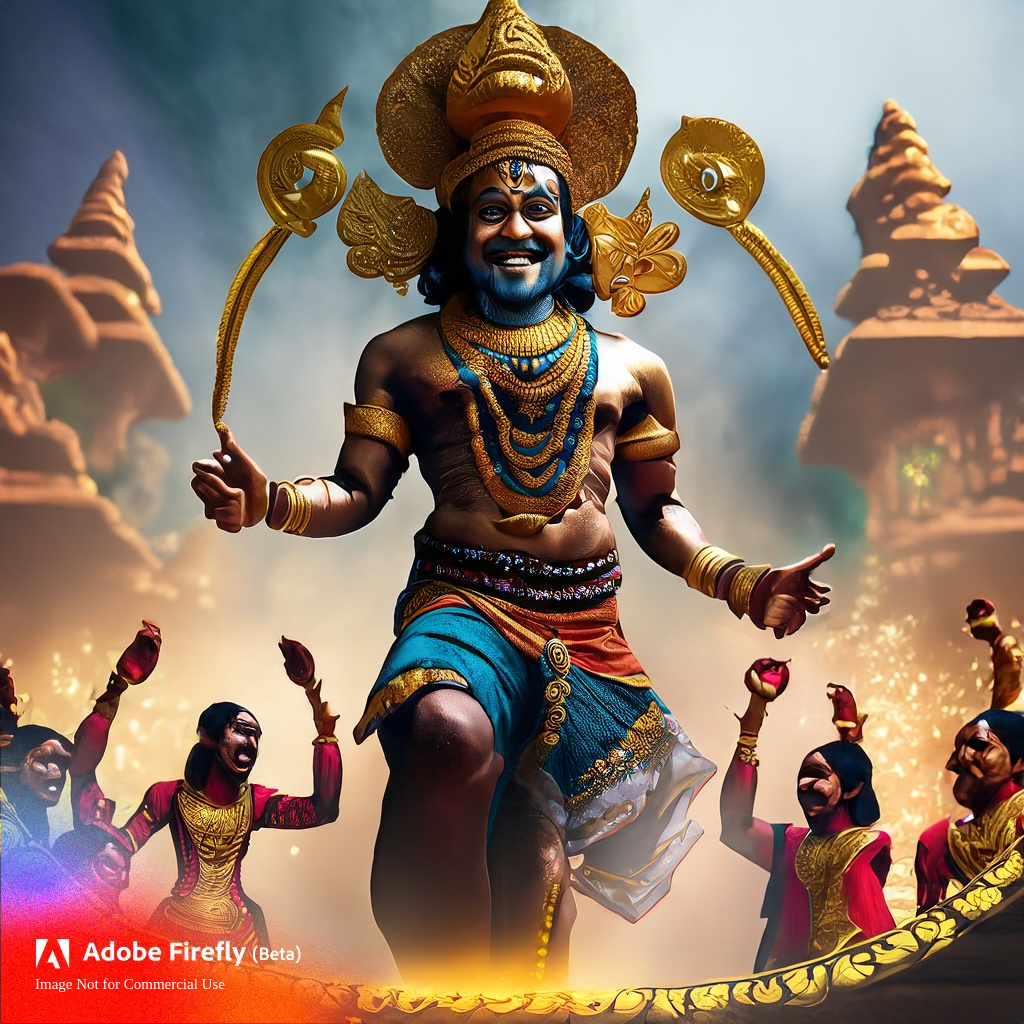 Now, let us get into the possible origin story of this myth. On the surface, it looks like a myth of a God vanquishing an Asura who had grown all too powerful. However, there is enough linguistic evidence that suggests the purported rule of Mahabali/Maveli to to one of Righteousness and justfulness. For instance, there is a very famous "Onam Song" which captures the rule of Mahabali, I have given the Malayalam version and a Google translation Below.
മാവേലി നാട് വാണിടും കാലം
മാനുഷ്യരെല്ലാരുമൊന്ന് പോലെ
ആമോദത്തോടെ വസിക്കും കാലം
ആപത്തങ്ങാര്‍കുമൊട്ടില്ല താനും
മാവേലി നാട് വാണിടും കാലം
മാനുഷ്യരെല്ലാരുമൊന്ന് പോലെ
ആമോദത്തോടെ വസിക്കും കാലം
ആപത്തങ്ങാര്‍കുമൊട്ടില്ല താനും
ആധികള്‍ വ്യാധികള്‍ ഒന്നുമില്ല
ബാലമരണങ്ങള്‍ കേള്‍ക്കാനില്ല
ദുഷ്ടരെ കണ്‍കൊണ്ട് കാണ്മാനില്ല
നല്ലവരല്ലാതെ ഇല്ല പാരില്‍… ഇല്ല പാരില്‍
മാവേലി നാട് വാണിടും കാലം
മാനുഷ്യരെല്ലാരുമൊന്ന് പോലെ
ആമോദത്തോടെ വസിക്കും കാലം
ആപത്തങ്ങാര്‍കുമൊട്ടില്ല താനും
കള്ളവുമില്ല ചതിയുമില്ല
എള്ളോളമില്ല പൊളിവചനം
വെള്ളികോലാദികള്‍ നാഴികളും
എല്ലാം കണക്കിന് തുല്യമായി… തുല്യമായി
മാവേലി നാട് വാണിടും കാലം
മാനുഷ്യരെല്ലാരുമൊന്ന് പോലെ
ആമോദത്തോടെ വസിക്കും കാലം
ആപത്തങ്ങാര്‍കുമൊട്ടില്ല താനും
കള്ളപ്പറയും ചെറുനാഴിയും
കള്ളത്തരങ്ങള്‍ മറ്റൊന്നുമില്ല
കള്ളവുമില്ല ചതിയുമില്ല
എള്ളോളമില്ല പൊളിവചനം…പൊളിവചനം
മാവേലി നാട് വാണിടും കാലം
മാനുഷ്യരെല്ലാരുമൊന്ന് പോലെ
ആമോദത്തോടെ വസിക്കും കാലം
ആപത്തങ്ങാര്‍കുമൊട്ടില്ല താനും
And the Google translation goes like this. (with two minor contextual changes by me)
Time to relive Maveli Nadu
Like all humans
Time to live happily
He is not in danger
There are no diseases
Child deaths are unheard of
The wicked are not seen with the eye
No peril except the good ones… no peril
Time to relive Maveli Nadu
Like all humans
Time to live happily
He is not in danger
No lies, no cheating
No nonsense
Silversmiths and Nazhis (Barbers)
Everything equals… equals
Time to relive Maveli Nadu
Like all humans
Time to live happily
He is not in danger
Tollapara and Cherunazhi
There are no fakes
No lies, no cheating
There is no nonsense…nonsense
Time to relive Maveli Nadu
Like all humans
Time to live happily
He is not in danger
 By all accounts, the Kingdom of Mahabali was a Welfare State. Bali's welfare state was beneficial to everyone. So, how come a king's reign was so good and he could still be vilified? One cannot be, hence Mahabali was never shown in a bad light in any scriptures. Just for context, Mahabali was the Grandson of Prahalada, who was the son of Hiranyakashipu. Prahalada was the one who famously "Converted" to Vaishnavism and Lord Narashima came to protect him and slain his father Hiranyakashibu. And Mahabali was depicted as a devout Vaishnavite.
Modern Interpretations:
There is a growing sentiment and appropriation from left-wing and social justice movements that Mahabali was a casualty of the victory of the Vaidheka or Varna System.
According to Jotiba Phule, the Varna system began to be established after the defeat of Bali and Jotiba writes about King Bali and Vamana in his book Gulamgiri (Slavery). [Read – Onam – What Jotiba Phule Said About King Bali and Vamana] Hence, it could be said that Onam also marks the beginning of the caste system and slavery in Kerala.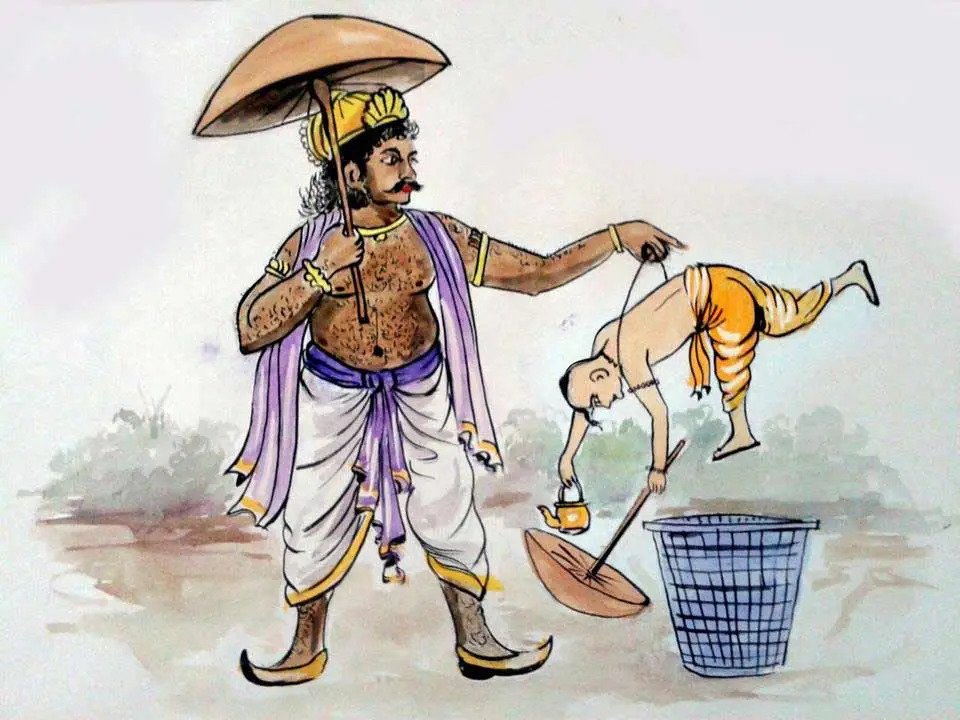 Further, according to Jotiba Phule, Bali was killed on the battlefield but his son Banasura defeated Vamana and Bali's subjects celebrated the victory. To this day, women in Maharashtra remember Bali's egalitarian rule and say,
"Ida Peeda Jao, Bali Raj Yeo" (May our troubles and sorrows go, and Bali's rule return).
Depection and Cultural erasure.
If you're from my age group or younger you'd have seen Mahabali as a Jolly fellow with a pot belly and an Umbrella walking down the street as the symbol of the Onam festival.(sometimes with a Poonul/Janeu) whether in one of the several hundred Satellite TVs or Corporate Cultural events or in shopping malls etc.
But, from the myth of the Mahabali, 1, He is an Asura King 2, He was unvanquished 3, He won all the battles he fought and became so powerful that Indra feared him. He would probably have to be depicted as a person of 6'1" or 6'2″ with a chiselled chest and six packs of abs with a full coat of armour. This is how Raja Ravi Varma has depicted it in his painting. (below)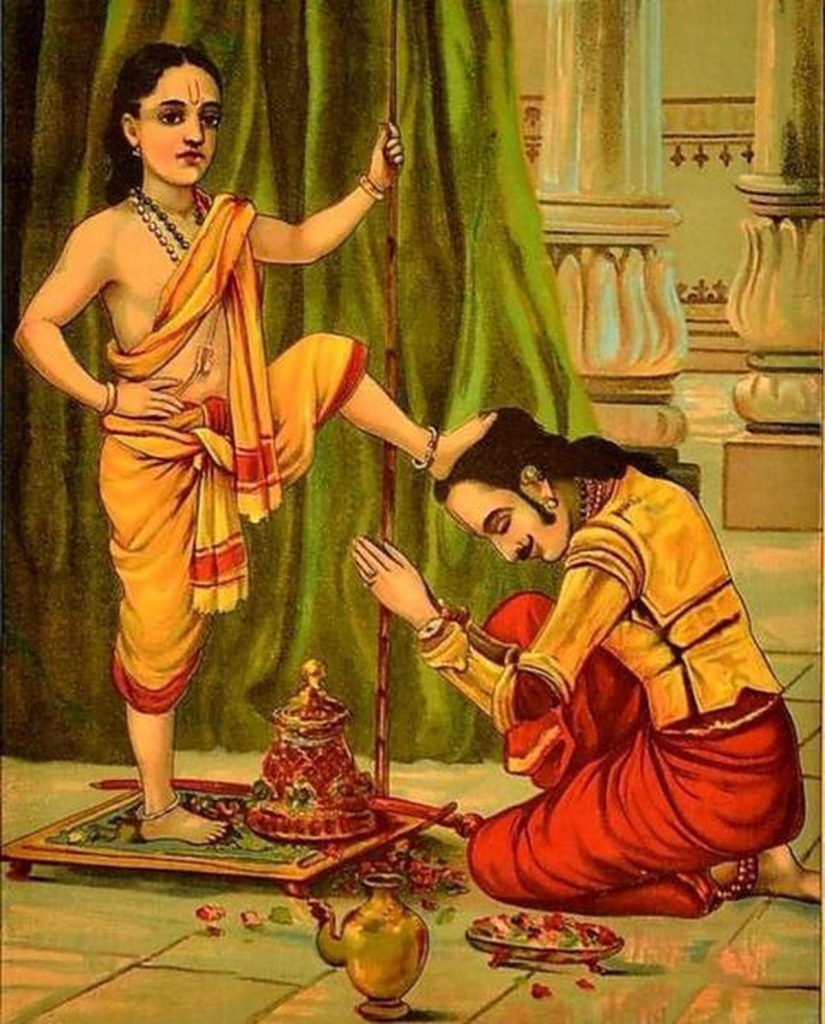 Original from Raja Ravi Varma Press – https://artsandculture.google.com/asset/vaman-ravi-varma-press/ogGBXvH38gD26w?hl=en
The reverse is also happening, some elements of the RSS/Parivar have been promoting Onam as a Vamana Jayanthi and are tactfully erasing the Identity of the Great King Mahabali.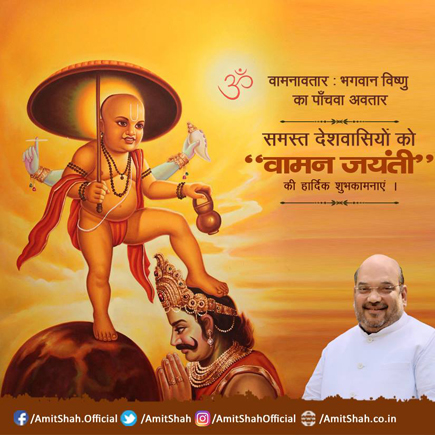 I personally do not have a problem with RSS celebrating Onam and calling it Vamana Jayanthi as long as people do not lose their heritage or forget their history. But a very disconnected "Hindized??" (do not know an equivalent word for Hollywood "Whitewashing", but we seriously need one) version is the above image. It is clearly written in the renderings that Vamana did not sport a tuft but a very large top-knot with flowing hair and his complexion was said to be dark.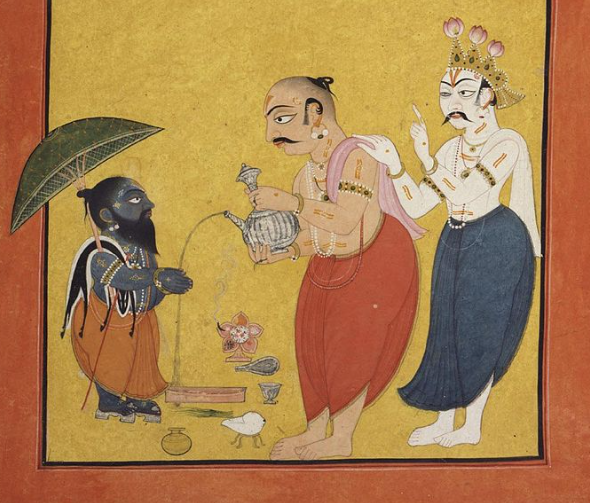 More like this.
Summary:
I seem to believe that this is a manifestation of one of those things that is unique to the Indian culture and tradition. Gods do falter and can behave preferentially if required. They can be remorseful or cruel when it suits them. Think of the following,
Rama had to kill B/Vaali by shooting from a hidden spot while he was engaged in one-on-one combat with his brother.
Rama had to kill Shambuka as he was doing penance while he was not accorded that privilege
Krishna had to do so many unpleasant things that would be hard to list here, but chief among them was instigating Kunti to ask for a promise from Karna to not kill anyone except Arjun and then Indra to ask for Kavach and Kundal and finally he masqueraded as a Brahmin and sought the benefits of all his Dharma!
As a closing remark, wanted to remind this often misquoted phrase –
Those who cannot remember the past are condemned to repeat it.

George Santayana
References & Further Reading
Asuras were the old Pre-Vedic Gods: Alain Daniélou (1991). The Myths and Gods of India: The Classic Work on Hindu Polytheism from the Princeton Bollingen Series, pp. 141–142. Inner Traditions / Bear 
Will the real Mahabali please turn up this time? – https://timesofindia.indiatimes.com/city/kochi/will-the-real-mahabali-please-turn-up-this-time/articleshow/71048573.cms
How Indra got Thousand Yonis – https://detechter.com/how-lord-indras-body-covered-with-vaginas-later-became-eyes/
Onam – Remembering The Murder of "Asura" King Mahabali – https://velivada.com/2019/09/11/onam-remembering-asura-king-mahabali/
Onam – What Jotiba Phule Said About King Bali and Vamana http://velivada.com/2019/09/11/jotiba-phule-king-bali-vamana-onam/
The false portrayal of Kerala king Mahabali like an Indian version of Santa Claus – https://www.thenewsminute.com/article/false-portrayal-kerala-king-mahabali-indian-version-santa-claus-154210
Who is King Mahabali? – https://www.thehindu.com/entertainment/art/who-is-king-mahabali-great-warrior-or-pot-bellied-king/article32465774.ece
In a Battle Fought in Mythology, The RSS Attempts to Rewrite the Tale of Onam; and What Everyone Else Has to Say – https://caravanmagazine.in/vantage/mythology-rss-rewrite-onam-kerala