Business Value delivery by Engineering Teams in StartUps – Part 1
Business Value delivery by Engineering Teams in StartUps – Part 1
In this multi-part post, I will try to articulate my view on the importance of business value and its delivery by engineering teams. While most of this is written from the view of a StartUp, some elements of an established organisation are also used.
Part 1: Defining Business Value & Role of Leadership in it.
Business value is a concept that can mean multiple things to multiple people and the tricky part is all of them could potentially be valid. A product manager may value a long list of features that his/her customers have demanded for months. Another Product Manager working with internal teams to improve efficiency (revenue) will value the enhancements the accounting or support team was after. While the support manager may value a more stable product to keep the customers, s/he deals with happy.
Business value & impacts are a difficult thing to define and deliver, while it is even more difficult to measure.A collaborative effort is required to define and deliver business value, with consideration needed to ensure all voices are heard.
While most of what I will be covering in this article is typically the purview of product management, I have learned that engineering leaders have a critical role to play in this space. (Will write more on that in the next part.)
Engineering leaders bring product development experience and technical expertise to the table to provide a crucial element to the delivery of business value which I will try and explain in this article.
What is Business Value?
I would define "Business value" as any improvements to systems, processes or people that augment the products or the ability to deliver products or services to the customers, thereby increasing the revenue or experience or both. No two companies will have the same definition of business value. Forget two different companies, a company in its 5th year will have a very different perception of value to its first year. This is due to their products and customers being different and requiring different elements to add value. One company may find value in the ability to build out its new product offering quickly. While another may find value in responding to customer support requests in a timely manner.
Due to the rapid changes around us, the things that businesses value changes often. Companies often face new challenges that require a quick response.
"Be agile, be nimble" is the key phrase.
These challenges can come in the form of new product features released by competitors, or a specific feature request by a key customer, or changes in the market that render the current product/feature obsolete. Business needs or desires, therefore change just as quickly as any of these external changes.
You have probably worked for a company that comes to the engineering team with new requirements, seemingly daily?
It is not because they cannot make up their mind; It is in response to the changing business needs. This changing goalpost is one of the main reasons that Agile development practices have taken precedence from more traditional waterfall methodologies for software development.
Velocity is everything, a report by McKinsey on how Developer Velocity fuels Business Performance will give more insights on this. A snapshot from the report is below.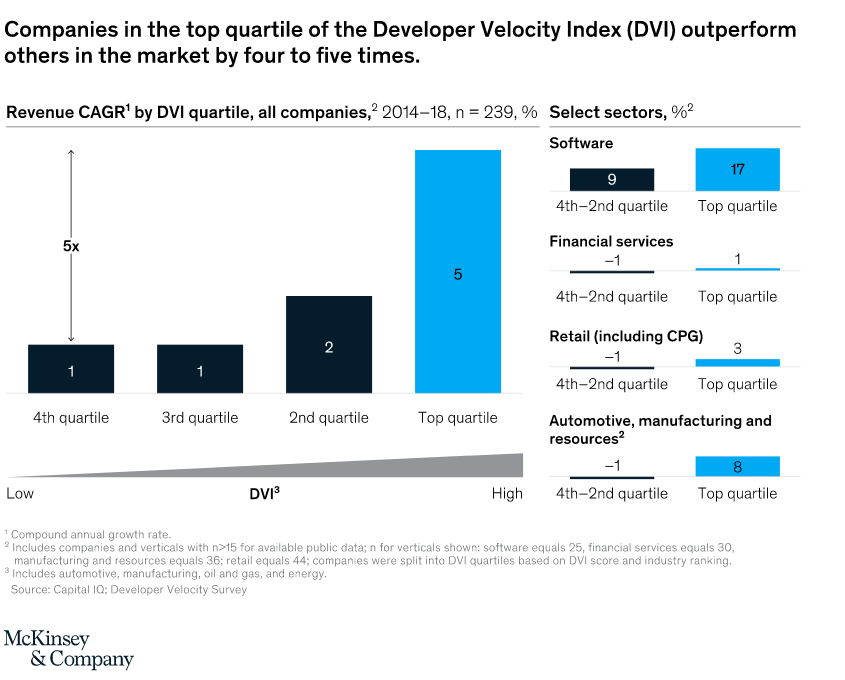 Why is business value important?
Reacting to change and delivering business value with haste is a crucial area of importance for modern businesses. All companies exist for a purpose. The majority of companies exist to return a profit for their owners (individuals or shareholders), while some companies exist to provide a social service. The critical thing to note is that they all exist to fulfil a specific purpose which guides their definition of business value.
No matter the company large or small, if they stop innovating, and their products or services stop being relevant to society at large and market in particular, that company will whiter and eventually die.
Kodak is a prime example of this occurring in recent history. In today's world, IT, whether it be hardware or software, is the largest driver of business value. It is therefore critical that the software engineering teams keep delivering the things that the business need to fuel their innovation.
We, as engineers, are not employed to just build that shiney app in the latest technologies, but to deliver our contribution in support of the business purpose (If not drive it!)
The importance of Engineering Leadership in Delivering Business Value
An engineering leader is, of course, a People Leader, and s/he is also responsible for the Execution, both technology and delivery of the engineering team. However there is a third dimension which often goes unrecognised, is that great engineering executives must also be great Business Leaders; they help drive alignment with other leadership/executives and shape the strategy and direction of the business itself.
It is this underutilised/forgotten element which I will try to detail here.
A People Leader & an Execution Champion:
Engineering leadership is often naively thought of as being simply a great Architect or Engineer or a Manager. But most of you already know it's more than that. Team leadership will involve some combination of team building, culture, leadership development, and performance management.
For detailed coverage on Engineering Leadership – Please checkout my Previous Post
Most of this responsibilities will be bang in the middle of the comfort-zone of a rising Engineering Leader. But one of the hardest things for most engineering leaders as we scale is, to continue having an accurate forecast of when products and features will be delivered – what the business always asks for.
That is partially because this bleeds into the third, and the least recognised dimension of engineering leadership.
The Missing Sauce: A Business Strategist
Engineering leadership isn't just about delivering products faster, or making engineers more productive. It's about guiding the team in the same direction as the business, about continuously improving, and it's about being the voice of engineering as a part of the decision-making process of the executive team. Of course, these are all dependent on our ability to understand the work our engineering teams are doing and how it aligns to business goals.
The third dimension – Business Alignment – is often overlooked or made difficult by other executives, but is absolutely necessary for the management of a successful engineering org. This is the strategic practice of engineering management, and all operational decisions depend on it. Business alignment means ensuring your organization is focused on the right projects that align with the business's goals.
The Product org can detail/design and Engineering org can build as many features as they can agree on, but what/how does it matter, if they do not align with the business objectives or goals? Business alignment involves the right allocation of resources that supports business objectives, and helping to drive those business decisions of which projects are strategically important. (at itilite, this is always the First Principle)
How do we deliver business value?
So how do we actually deliver business value? Business value isn't created by a soloist delivering a virtuoso performance, but a collaboration of the business, product, engineering and customer success teams working together to realise a shared vision.
Below are the five ways this can take place; together, these provide a roadmap for delivering business value;
Define systems development strategy
Help business define requirements
Visualise the work and prioritise
Schedule and communicate delivery
Deliver value often and get feedback
I will try to articulate through each of these one at a time and dig into a little more detail in Part 2 of this article.